Related Videos
ATM withdrawal (cash withdrawal):
Customer can cash-out (withdraw) at any Dutch-Bangla Bank ATM. Overall process of Cash-Out (Withdraw) from ATM is as follows:
In normal (idle state) condition following screen will pop up in ATM monitor and ATM is ready for financial transaction. For withdrawl cash press Mobile Banking Button.
After pressing Mobile Banking Button by ATM, the following screen will be appeared then type 12 digits Rocket account number and if it is correct press Correct button otherwise press Incorrect button.

After that following screen will be appeared and customer will enter four digits PIN (Personal Identification Number). Now customer has to enter amount and press correct button. (If any wrong amount is given, customer may press incorrect button for a fresh entry)

Now customer will get an USSD Push/IVR call to input his/her account PIN number. If the PIN is correct, customer will get the following screen

After completion of the transaction, following screen will be appeared.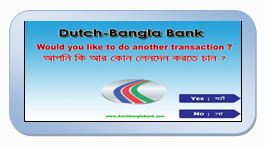 ---