Related Videos
Cash-out (cash withdrawal):
Customer can cash-out (withdraw) at any DBBL Branch and ATM, DBBL authorized- Own agent, UISC, Banglalink, Citycell & Airtel retail points and Mobicash marked outlets of Grameen Phone .
Customer asks the Agent for withdrawal of an amount from his/her Rocket account
Agent initiates the transaction from his/her mobile
DBBL system sends USSD Flash menu to the customer's mobile (or IVR Call): "Welcome to Dutch-Bangla Bank. You are going to withdraw Tk.XXX from your account. If you want to continue enter your 4 digit pin or if not cancel the call.
Customer enters his/her PIN
System sends an SMS to the customer's mobile
Agent hands over money to the customer
Overall process of Cash-Out (Withdraw) is as follows...
For Agent: Agent initiates the transaction from his/her mobile by dialing *322#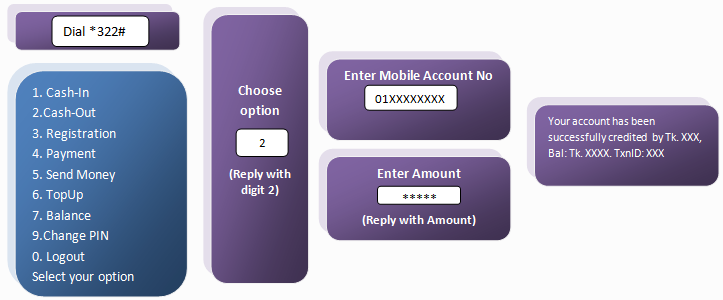 For Customer: Customer receives an IVR Call

---